Charter a Luxury Yacht to experience exceptional relaxation. Sensational adventure. No resort villa or expensive cruise can provide the feeling of freedom you get by chartering a luxury yacht.
Imagine you're floating amid a string of atolls. It's midmorning and there's a cool, salty breeze rustling through your hair. You hear the call of native birds, the gentle crash of waves upon the shore, the wind rattling nearby palms. A stewardess brings you a cold, refreshing iced coffee, served perfectly to order. You gaze out over the vibrant ocean hues and make the most difficult decision of your day: to snorkel or to jetski?
The 10 Benefits of Your Luxury Yacht Charter
10. The Ultimate Experience in Freedom
A cruise can be fun if you're willing to give up some freedom. You won't be able to choose where to go beyond the predetermined destinations, or what to eat, and you may have limited activities from which to choose.
For those who charter a luxury yacht, your options are endless. You are in charge. You can have your personal chef whip up gourmet creations, you can take water toys out to play in the sea or you can dock near the beach with kids or friends in tow. Relax, waterski, or shop whenever and wherever you like.
It's your vacation. The yacht crew will tailor it to meet your every desire.
9. Travel to Exotic and Remote Locations
You wouldn't normally stay in a thatched roof hut for a week long vacation. But there is a certain romance that comes from strolling by a village market with your family or friends.
When you charter a luxury yacht, you are able to go places you've only read about while enjoying all of the comforts only a yacht can afford. Walk into the shoes of Anthony Bourdain and experience culture and cuisine in the city. Then spend the next night feasting on a seven course meal on your luxury yacht.
The world is yours.
8. Charter a Luxury Yacht with No Boating Experience
Want to charter a yacht, but concerned about your lack of boating experience? You are in luck because a yacht crew is typically included with each yacht charter. You can enjoy a private getaway on a smaller yacht or go for a superyacht, fully crewed luxury experience. Let the crew do the work. Relax and enjoy the ride.
7. An Opulent Holiday Getaway
Luxury yacht charters make for exciting and exclusive holiday escapes. Celebrate with a night on the town then retire with only your closest friends at the swim-up bar on deck. Sip champagne in the jacuzzi under the blanket of stars and soak up the fun. One thing is for sure: your yacht crew will ensure an enviable experience.
6. The Best View for Every Guest
Why pay for a hotel with an ocean view when every guest can enjoy an idyllic scene? Whether you are off the coast of Miami's South Beach or snuggled in a bay in the Bahamas, charter a luxury yacht and you can see the world together.
5. Unlimited Activities
If you are imagining a lot of boring sightseeing on the water, think again. High end luxury yacht charters come equipped with toys for everyone.
Are you looking to snorkel in the tropical waters of Australia? Snorkel gear will be included. Are you dying to see Fiji from the air? Charter a luxury yacht with a helipad.
Take the kids kayaking. Explore the reef while snorkeling. Take a cooking class with a loved one from your personal chef. We promise, you'll never be bored.
4. Host An Impressive Corporate Event
Vacations aren't the only reasons to charter a luxury yacht. Reward your employees with the team building event of a lifetime. Impress your potential client and close a deal in absolute privacy and comfort. Whatever your goals may be, chartering a luxury yacht is guaranteed to help you build valuable relationships for your business.
3. Total Seclusion to Night Life in the City
The mobility of your luxury yacht allows you to choose your level of privacy, freedom and adventure. The captain and crew are at your service. Let them know your every whim and they will be happy to oblige.
Have a wild night in a foreign city and then return to your luxury yacht to relax & recover in the comfort and seclusion of your personal offshore spa.
2. A Family Bond
Get into the business of making memories. Your family and friends will value nothing more than the gift of time spent with you. When you charter a luxury yacht, you make an investment in sentimental experiences with the people you love the most.
1. The Vacation of Your Dreams
When you charter a luxury yacht, every aspect of your vacation comes down to your desires. Every crew member, from captain to stewardess to personal chef, exists to attend to your wants and needs in a way that no luxury resort or cruise can match. They know your name, they understand your likes and dislikes, and they delight in serving your every need. With a luxury yacht charter, you can indulge and relish in your dream vacation.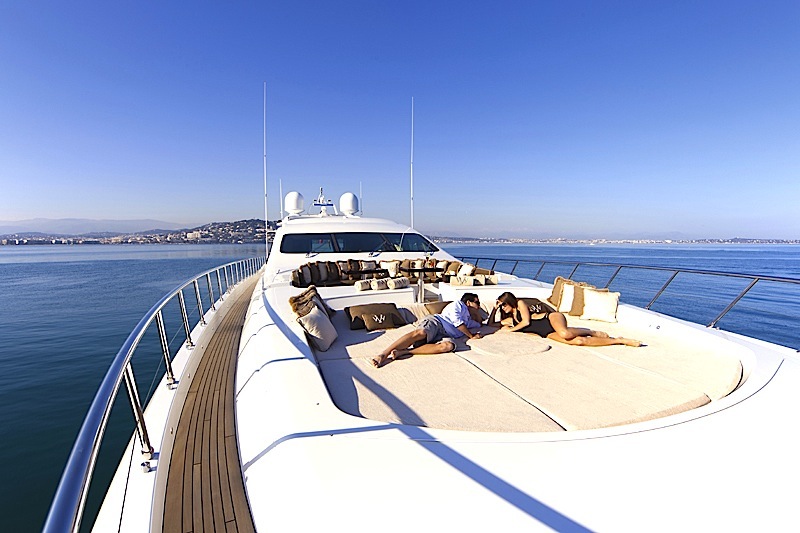 It's Your Luxury Yacht Charter…
Use it however you like. From leisure time to a holiday extravaganza to a corporate expedition, a luxury yacht provides the ideal setting. Not only is it versatile, it's fully loaded with sports and activities. Boredom does not exist here. When you tuck into your feather comforter in your private suite at the end of another thrilling day, you will be grateful you decided to charter a luxury yacht.
World Yacht Group. We Find the Right Yacht For You.